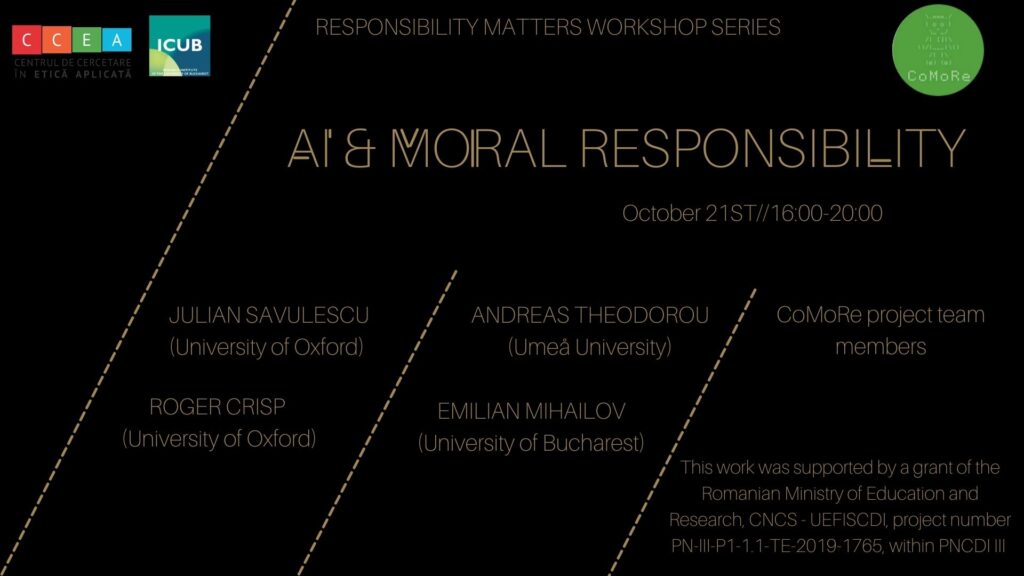 CEPE/IACAP Joint Conference 2021: The Philosophy and Ethics of Artificial Intelligence – 8 July, 2021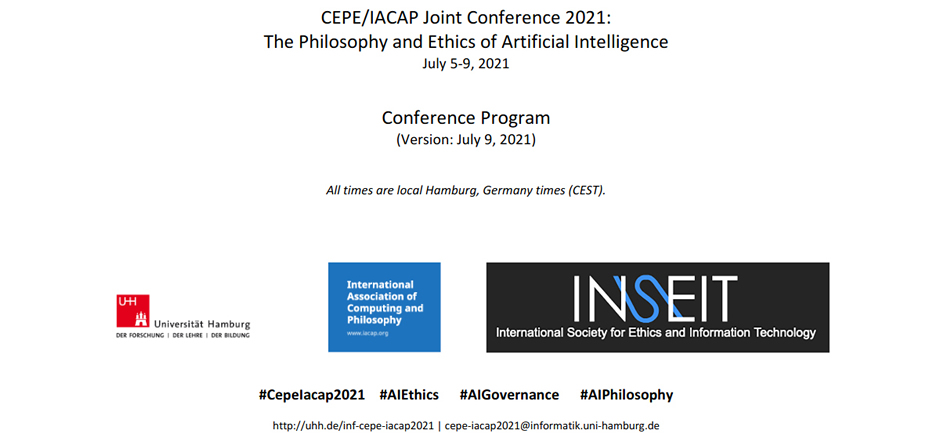 Cristina Voinea and Constantin Vică (together with their colleague Alexandru Dragomir) gave a talk entitled On medical technological paternalism. In it, they argued that although current medical AI systems increase effectiveness in diagnostic and treatment, thus enhancing the doctor's capacities, they have the potential to reintroduce paternalism in the therapeutic relationship (emphasis on the trade-off between explainability and performance in DL and DNN more specifically). This is due to the fact that current medical AI systems are generally characterized by opacity, unintelligibility and lack of explainability. 
XI Braga Meetings on Ethics and Political Philosophy – June 9, 2021
Radu Uszkai delivered a presentation entitled The case for a Basic Universal Genetic Endowment. While the main focus of his presentation revolved around questions of justice posed by enhancement technologies like CRISPR, Radu's talk also tackled the issue of moral responsibility (in both individual and collective settings).
A recorder version of his presentation is available here
Romanian National Commission for UNESCO – Online Colloquium: Ethics of Artificial Intelligence: How intelligently can we use AI? June 3, 2021, 11.00-14.00hrs. With Constantin Vică & Mihaela Constantinescu
Mihaela Constantinescu and Constantin Vică were two of the speakers at the academic roundtable organized by the Romanian National Commission for UNESCO aimed at exploring some of the ethical implications of using AI. While Mihaela's talk focused on the moral externalities of AI, Constantin gave a presentation on the moral diplomacies and bureaucracies at play in the field of AI ethics.
Constantin Vică represented Romania in the processes of examining the draft text of the Recommendation on the Ethics of Artificial Intelligence (AI).
The recording of the first meeting is available here
Radu Uszkai and Anda Zahiu gave a talk on April 23 2021 at the Social BRIDGES 3 conference organized by Bundeswehr University Munich. The talk, titled You'll never work alone: AI, robots, and the future of meaningful coaching in football, revolved around the use of AI in contemporary football coaching and its potential impact in the future. Radu and Anda argued that it is at least implausible that robots equipped with AI could leave human coaches without a job in the near future (due to a wide variety of reasons, chiefly among them being their lack of moral agency) but also that new advancements in technology should receive an integrationist treatment from both employees and employers, as they could assist and augment human capacities, rather than undercut their relevance in areas of human activity such as professional sports.
A recorded version of their presentation is available here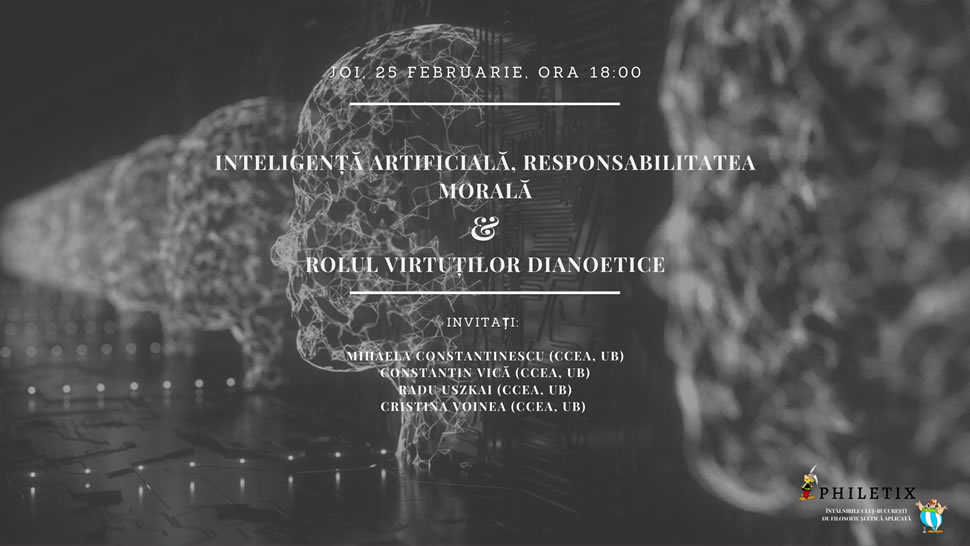 Hosted online by the Research Center in Applied Ethics (CCEA), Mihaela Constantinescu, Constantin Vică, Cristina Voinea & Radu Uszkai gave a talk entitled AI, moral responsibility and dianoetic virtues on February 25 2021 during the center's weekly debates. The members of the team presented their draft paper on AI and moral responsibility in which they focused on the pivotal role played by dianoetic virtues.
More details regarding the event are available here.
Embedding AI in Society: The 2021 Rabb Symposium at North Carolina State University – February 19, 2021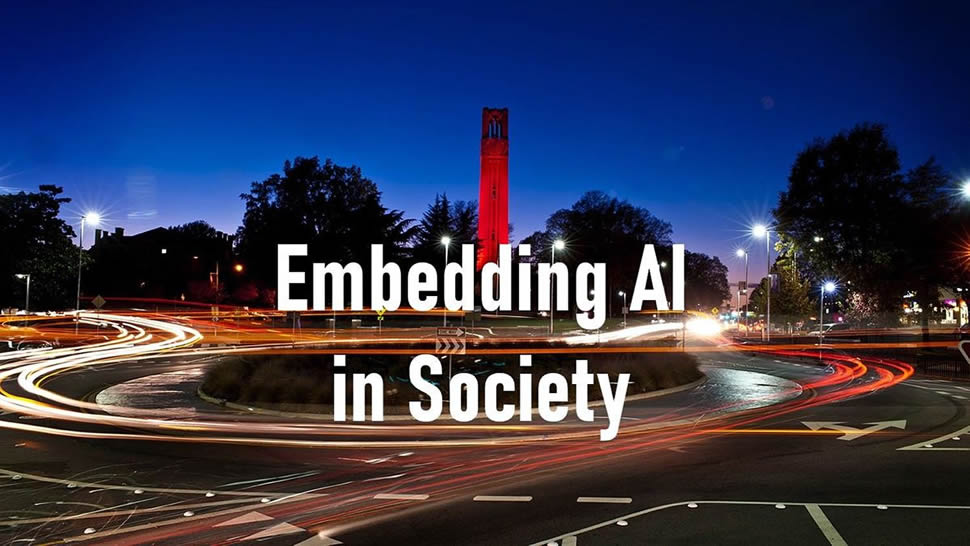 Cristina Voinea and Constantin Vică (together with their colleague Alexandru Dragomir) presented a paper entitled Luke, I'm NOT your Father: Beyond Technological Paternalism, Towards Mutual Cooperation Between Patients, Medical Staff and AI. In it, they argue that medial AI systems should be designed with an eye on how they alter therapeutic relationships. More specifically, medical AI should be designed so as to foster patient-centered therapeutic relationships, which have been proven to increase adherence to treatment, autonomy of both doctors and patients as well as trust between them and decrease the general discomfort of medical services and treatments.
CoMoRe kick-off meeting – January 11, 2021, 18.00-20.00h, online. With Mihaela Constantinescu, Constantin Vică, Radu Uszkai, Cristina Voinea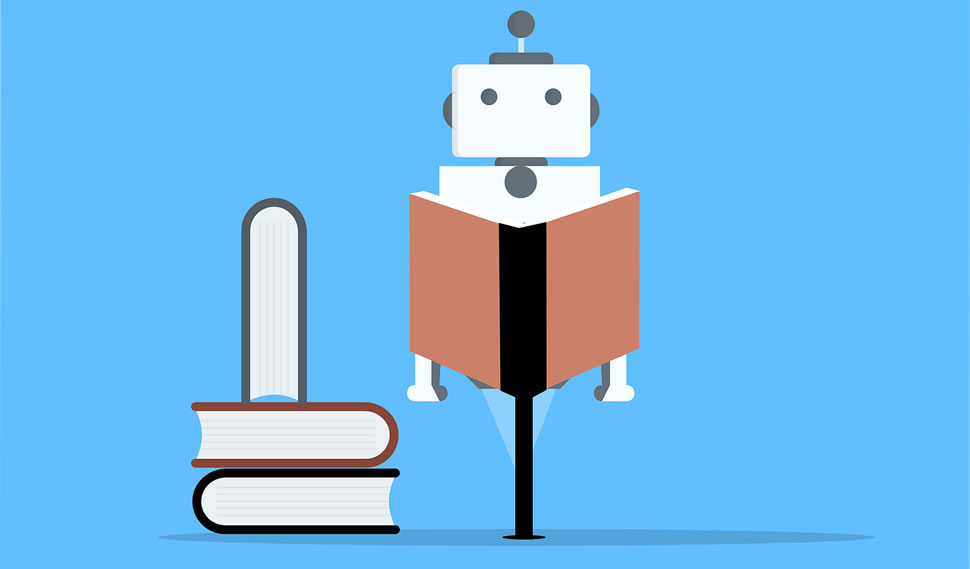 The kick-off meeting of the CoMoRe project took place online, on January 11, 2021. Together with other scholars working on similar topics, the members of the project discussed the main hypotheses of their research, focusing on the moral status of AI and the problem of moral responsibility. With the feedback provided by other participants, the members of the project developed the conceptual framework for an article on responsible AI.